SeaLite® Sphere 200 Series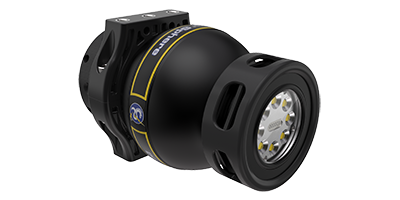 VERSATILITY FOR A VARIETY OF SUBSEA APPLICATIONS AND UP TO 10,000 LUMENS
The SeaLite Sphere 200 Series emits up to 10,000 lumens with 6,000 m or 11,000 m depth rating and multiple configuration options.
This LED light features flicker-free dimming and a field-serviceable connector. The isolated connector compartment adds a barrier of protection from connector failures. Intelligent thermal rollback prevents overheating.
Options include multiple beam angles and monochromatic LEDs such as ultraviolet.
The SeaLite Sphere 200 Series includes a mounting bracket with titanium inserts.
Optical
SLS-3200
SLS-5200
SLS-6200
SLS-7200
SLS-8200
Typical Lumen Output (Flood)
3,800
7,500
9,000
8,700
10,000
Efficacy with Flood Configuration
89 lm/w
80 lm/w
53 lm/w
97 lm/w
77 lm/w
Lux
2,800 lx
4,900 lx
5,600 lx
TBD
6,100 lx
Color Options
Day Light White 5000 K ~ 6500 K
Warm White 2600 K ~ 3700 K


Other options available

CRI
Day Light White: 70
Warm White: 80
Beam Angle
Flood: 75°
Spot: 35°
Flood: 75°
Spot: 45°
Flood: 80°
Environmental

SLS-3200

SLS-5200

SLS-6200

SLS-7200

SLS-8200

Depth Rating
Standard: 6,000 m
Optional: 11,000 m
Thermal Protection
Thermal Rollback
Operational Temperature
-10°C to 40°C (14°F to 104°F)
Storage Temperature
-25° C to 105°C (13°F to 221°F)
Electrical

SLS-3200

SLS-5200

SLS-6200

SLS-7200

SLS-8200

Voltage
10~36 VDC
20~36 VDC
110~140 VAC
120~150 VDC
90~250 VAC
80~350 VDC
215~275 VAC
275-375 VDC
Power
43 W @ 24 VDC
94 W @ 24 VDC
169 W @ 120 V 60 Hz
90 W @ 120 VAC 60 Hz
90 W @ 220 VAC 60 Hz
130 W @ 275 VAC
130 W @ 375 VDC
Dimming
0~5 VDC
AC phase control (TRIAC)
Variable voltage (VARIAC)
AC phase control (TRIAC)
No dimming on DC
AC phase control (TRIAC)
Variable voltage (VARIAC)
Mechanical

SLS-3200

SLS-5200

SLS-6200

SLS-7200

SLS-8200

Housing
Standard: Hard Anodized 6013 Aluminum
Optional: Titanium
Port
Sapphire
Outer Diameter
82.1 mm
(3.23 in)
Length
without connector
136.7 mm
(5.38 in)
Weight in Air
with MCBHMP connector
763 g
(1.68 lbs)
824 g
(1.82 lbs)
920 g
(2.03 lbs)
824 g
(1.82 lbs)
Weight in Water
with MCBHMP connector
270 g
(0.60 lbs)
320 g
(0.71 lbs)
420 g
(0.93

lbs

)
320 g
(0.71 lbs)
Connector

SLS-3200

SLS-5200

SLS-6200

SLS-7200

SLS-8200

Default
SEACON MCBHMP


Other connectors available