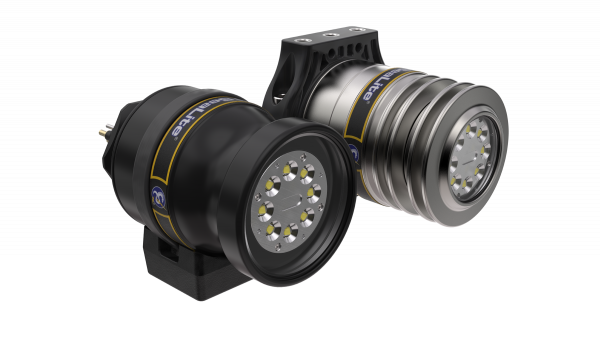 OUR FLAGSHIP LIGHTING PRODUCT
ROBUST INDUSTRY WORKHORSE AND CONFIGURABLE FOR ANY APPLICATION
The LED SeaLite meets the demands for the market challenges of today. This subsea light emits up to 10,000 lumens and is available in multiple LED, beam pattern, input voltage, and depth configurations.
The standard sapphire port has a 6,000 m or 11,000 m depth rating and the optional acrylic port has a 4,000 m depth rating. The LED SeaLite includes a mounting bracket with titanium inserts.
The LSL-1000 and LSL-2000 models have a wide range of accepted voltage inputs as well as a low inrush current. Both digital and analog dimming interfaces support flicker-free dimming. This light comes standard with intelligent thermal protections that always put out the maximum light for the current operating temperature.
The LSL-2025 adds Multiray® technology to incorporate two sets of LED sources in a single fixture.
Monochromatic LED options and a range of white temperatures are available. Contact us to discuss your specific lighting needs.
This light is field serviceable with no solder wire connections or specialized tools required. The LED SeaLite includes a two-year limited warranty.
Model
LSL-1000
LSL-2000
LSL-2025 Multiray
LSL-2075 SeaStrobe
Power
90-140VAC
10-48VDC
Output Type
Constant Current
Constant Current, Switchable Arrays
Constant Current, Strobe/Pulse
Control Options
Phase Control Variable Voltage Serial: RS-232, RS-485
Analog: 0-5V, 0-10V, 4-20mA Serial: RS-232, RS-485
Analog: 0-5V, 0-10V, 4-20mA Serial: RS-232, RS-485
Serial: RS-232, RS-485 Sync: Edge trigger, Pulse Following
Materials
Aluminum: 6km Titanium: 6km, 11km Acrylic: 4km Sapphire: 6km, 11km