A Reliable Subsea Pressure-Compensated Submersible Battery
The subsea community has relied on our SeaBattery Power Module for over 30 years. The durable design works in the most demanding subsea applications. This battery has a pressure compensated design and an 11,000 m depth rating. 12V, 24V, and 48V configurations are available.
SeaBattery Power Modules use Absorbent Glass Mat (AGM) lead-acid cells which add vibration and shock resistance. These Power Modules continue to work when inverted. The SeaBattery Power Modules do not have the same shipping restrictions as lithium ion batteries.
A high current SeaBattery is offered for applications that require current draws of up to 100 amperes.
The SeaBattery enclosure is available for use as a junction box.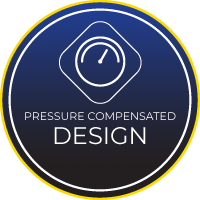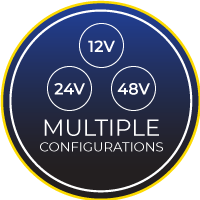 Documentation
Environmental
SB-6/210
SB-12/80
SB-24/40
SB-48/18
Depth Rating
11,000 m
Charging Temperature Range
-15° C to 50° C
(5° F to 122° F)
Operating Temperature Range
-20° C to 60° C
(-4° F to 140° F)
Recommended Storage Temperature Range
0° C to 30° C
(32° F to 86° F)
Electrical

SB-6/210

SB-12/80

SB-24/40

SB-48/18

Standard Configuration
6 volt
210 amp/hour
12 volt
80 amp/hour
24 volt
40 amp/hour
48 volt
18 amp/hour
Max Discharge Rate
IL4FS: 16 Amps
SEACON AWO-3 w/G: 100 Amps
Mechanical

SB-6/210

SB-12/80

SB-24/40

SB-48/18

Length
 457.2 mm (18 in)
Width
 304.8 mm (12 in)
Height
 323.9 mm (12.75 in)
Weight in Air
 48.20 kg (106 lbs)
+/- 2%
 49 kg (108 lbs)
+/- 2%
Weight in Water
 18.2 kg (40 lbs)
 19.1 kg (42 lbs)
Case
 Molded Polyethylene
Diaphragm
 Molded Polyurethane
Compensating Fluid
 Inert oil
Connector

SB-6/210

SB-12/80

SB-24/40

SB-48/18

Connector
Right angle diaphragm penetrator on 2-meter cable terminated with
Standard: IL4FS connector + Female Locking Sleeve
Optional (High Current): SEACON AWO-3FS w/G + Female Locking Sleeve
Chargers

SB-6/210

SB-12/80

SB-24/40

SB-48/18

Charger
N/A
SB-CHG-SW/12
SB-CHG-SW/24
SB-CHG-120/48
SB-CHG-240/48
Downloads
Depending on your connection, some of the design files are larger and will take time to download.
Prior to returning goods, please contact us via phone, fax, email, or our contact form below for an RMA number. We will need your product model number, serial number and any other pertinent information along with a description of the problem. When shipping your item, be sure that the freight is pre-paid and that the RMA number is clearly printed on the outside of the box. CODs will not be accepted.
+1-858-576-1261

+1-858-576-0219

Warranty